Georgia's Divorce Rate & COVID-19: not as "Married" as you'd Think
Did the COVID-19 Pandemic increase the Divorce Rate?
If you are worried that spending too much time with your spouse may damage your marriage, you may need to think again. As we all know, COVID-19 forced couples into lockdowns for the first time in their marriage, increasing concern that divorce could be looming on the horizon.
Conventional wisdom and other sources claimed that living in quarantine with a spouse or partner for a period of time was the perfect storm for ending the relationship. During the pandemic, divorces in the U.S. soared to 34%. But it turns out - here in Georgia, more marriages survived the pandemic instead of allowing it to destroy them.
Recently, we collected data from the Judicial Council of Georgia's Administrative Office of the Courts on divorce filings in Georgia submitted during the years 2019 and 2020. We compiled this data into a composite of all the figures for the years of 2019 and 2020 with specific indicators demonstrating whether the divorce rate for each county increased, decreased, or remained the same.

Did the COVID-19 Pandemic Lower the Divorce Rate?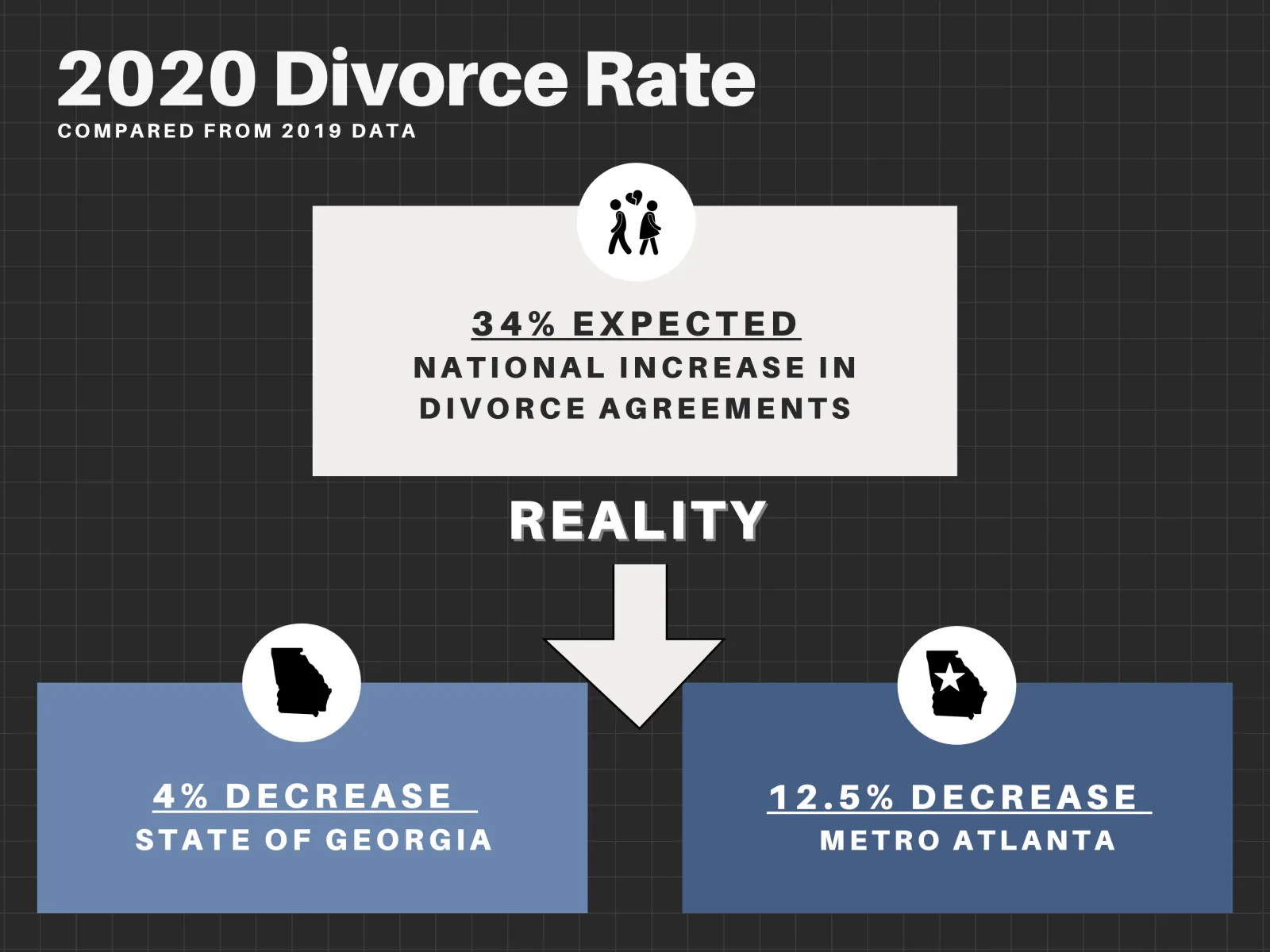 What the figures reveal may surprise those who ascribe to the notion that spending more than twenty-four consistent hours with your spouse will damage a relationship. Specifically, the general trend in Georgia is that the pandemic did not have a detrimental impact on marriages - statewide, the divorce rate actually went down by about 4%. Meanwhile, the divorce rate in Metro Atlanta went down by about 12.5%.
Looking at the figures county-by-county provides a more detailed case study. Many counties remained the same in terms of filings, the pandemic itself having no seeming effect on the number of residents filing for divorce. Some counties experienced a moderate decrease; while others showed a more significant drop in the divorce rate. For example, DeKalb County's figures demonstrate a 25% decrease. For a county by county breakdown, scroll down to the map of Georgia and click each pin for individual county data.
[S]tatewide, the divorce rate actually went down by about 4%.
[T]he divorce rate in Metro Atlanta went down by about 12.5%.

Did Political Affiliation Affect Each County's Divorce Rate?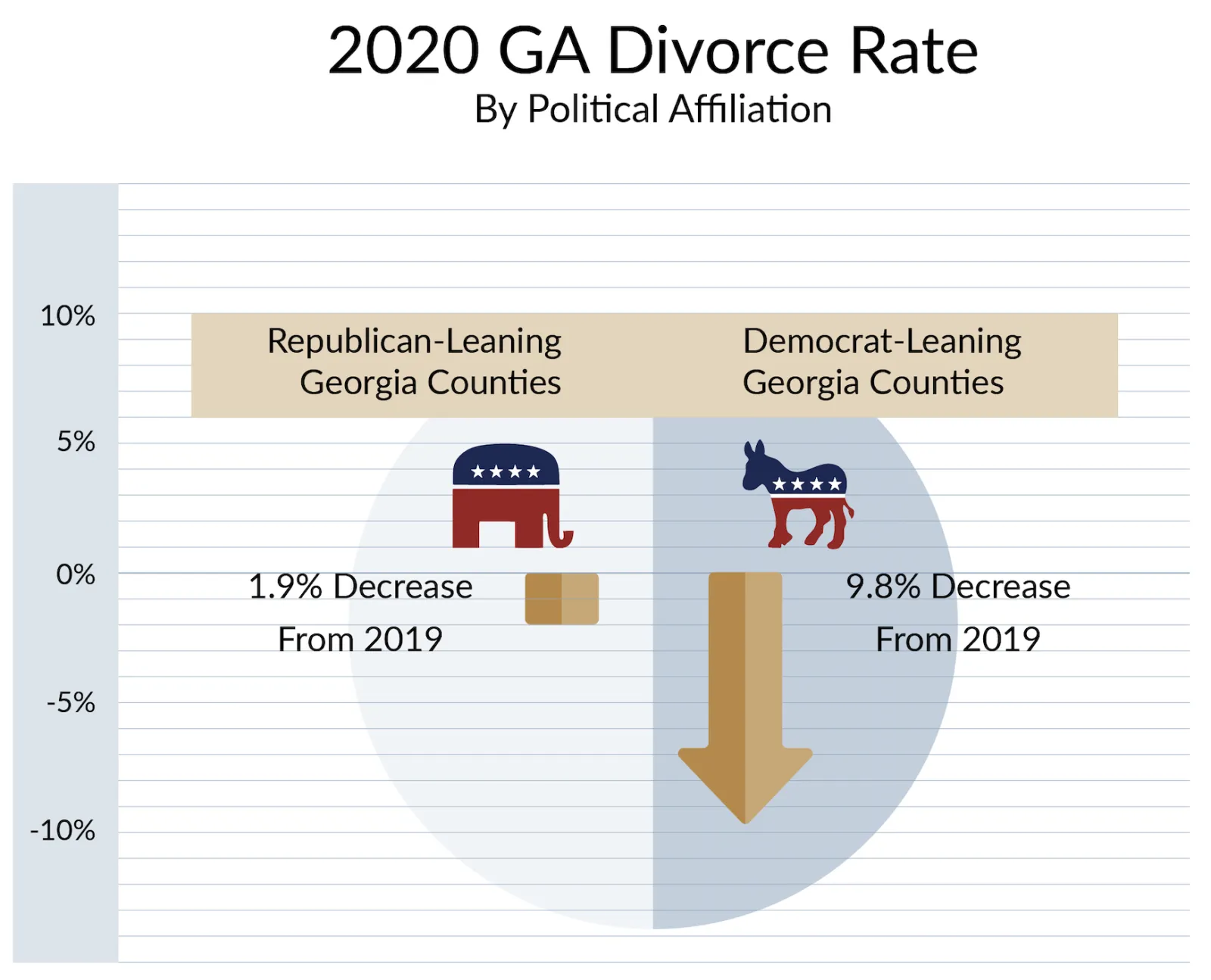 Notably, Republican and Democrat counties also differed in their respective divorce rates overall. Georgia counties that voted majority Republican in the 2020 Presidential Election reflected a trend of the divorce rate remaining the same or decreasing incrementally, while counties that voted majority Democrat on average reported a more significant drop. For example, Forsyth County, which voted 65.8% Republican in 2020, only had a 2% drop in the number of divorces. Conversely, Fulton County, which voted 72.6% Democrat in 2020, experienced an 11% drop.

2019 & 2020 Divorce Rate for each Georgia County
For individual county divorce rate data, click the pin within the Georgia county.
Conclusion
While COVID-19 may have presented new hurdles to married couples cohabitating in quarantine, the numbers are clear - most Georgia couples chose to work through those challenges in other ways instead of rushing to the courthouse to untie the knot.

Did this article help you?
Thank you, we appreciate your feedback!