Meriwether & Tharp

Experienced Divorce Lawyers Throughout Atlanta

Divorce Hurts…but it Doesn't Have to be Nasty
We believe there's a better way...
Advocacy, not Aggression
You might be feeling sad, scared, or even angry. Our emotions are a powerful thing and they can push us to make decisions that can have a negative effect on your life. There's a big difference between blind aggression and professional advocacy. In the heat of the moment, our heightened emotions tell us that we want an aggressive bulldog approach, but what we really need is an advocate that's focused on accomplishing our goals and bringing our case to a quick resolution. Unnecessary fighting costs more, drags the case out, and puts the ultimate outcome of your case in the hands of a judge or jury that just met you a few hours ago. We work tirelessly to resolve your case and put decision-making power back in your hands.

Clarity, not Confusion
Divorce and family law cases have a lot of moving parts. It's easy to get confused. You might be wondering, "what's the first step? Or what do I do next?" We guide our clients through the storm of divorce by educating them on the divorce process and arming them with numerous educational materials. We supplement that education with the use of in-house tools and resources that help us eliminate the confusion and meet the goals you set for your case.

You Don't Have to do This Alone
It's common to feel alone during this process. But remember - you don't have to do this alone. We have a team ready to help you now. Our size and our team-based approach mean that you can count on us to have the right people for your case. Our dedicated Customer Service Team listens carefully to your case details and works to match you with the best divorce lawyer and legal team for your case. Our team approach uses combined years of experience to work for you and save you time and money. We optimize the handling of your case in the most legally and economically efficient manner. No more waiting for your solo lawyer to make time for you or get around to your case - members of your Meriwether & Tharp legal team are available to help.
Divorce: What You Need to Know
We Are Your Source For Georgia Divorce
With a huge library of resources that covers every aspect of divorce from start to finish...
Traditional Visitation ("Standard Visitation")
Under this plan, that traditionally has been used the most for outlining custody, the primary custodian (A) would have most of the parenting time with the minor child(ren). The secondary custodian (B) would have parenting time from Friday after school (or starting at 6 p.m.) until Sunday at 6pm (or Monday morning at school) every other weekend and dinner(s)/overnight visitation during the off week. The choice between pickups and drop-offs at school v. at 6 pm varies based upon the needs of the parties in each case with a preference towards drop offs at school to avoid conflict that may be caused by an in- person exchange.
Extended Traditional
Similar to the traditional visitation plans, this format has an every other weekend approach. The extra day allows for the noncustodial parent (B) to have extended visitation with the child(ren). As in the traditional example, pickups and dropoffs can occur either at school or at a designated time. This hybrid of joint visitation and traditional visitation has been growing in popularity over recent years.
Weekly Exchange (Joint Custody)
This custody arrangement has also been popular. Obviously, it's a week on/week off format that requires extended time away from the other parent. As a result, this format is slightly disfavored as of late.
2/2/5 (also referred to as 2/2/3) (Joint Custody)
This plan is a relatively new version of the weekly exchange schedule and provides for a similar 50/50 joint custody arrangement. This plan, however, breaks the monotony of the weekly exchange schedule and provides its own level of certainty for the child(ren) involved. Since each parent has two designated nights for visitation during the week, it allows a parent to schedule day care and extracurricular activites on a consistent basis that was generally prevented under the week on/week off type of schedule. Additional, this plan provides each parent with alternating full weekends with the child.
Proud Partner of the Georgia Bulldogs®
The M&T Advantage

Aside from amazing customer service and representation, what exactly do you get when you hire Meriwether & Tharp? What advantage? We have access to a number of practical and educational resources that give you the "M&T Advantage."

The M&T Difference
We are here for you. We take care of your divorce. You take care of your life.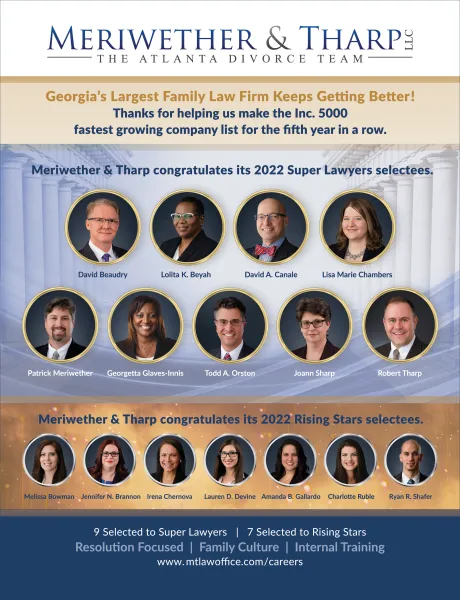 Super Lawyers & Rising Stars Award
16 M&T Divorce Lawyers Selected
Super Lawyers is a rating service of outstanding lawyers within their particular practice area. Lawyers who are selected have typically attained a high-degree of peer recognition and professional achievement. The Super Lawyers and Rising Stars selection process is a patented process that includes independent research, peer nominations and peer evaluations. At Meriwether & Tharp, our divorce lawyers constantly strive to help our clients through difficult times while providing the highest level of legal service. These efforts rarely go unnoticed. We are proud to announce 16 attorneys selected to Super Lawyers and Rising Stars for 2022. In fact, it's our 5th year in a row of getting over 10 of our divorce lawyers selected to Super Lawyers and/or Rising Stars.
What's it like to be a Client at M&T?

Experiencing The M&T Advantage